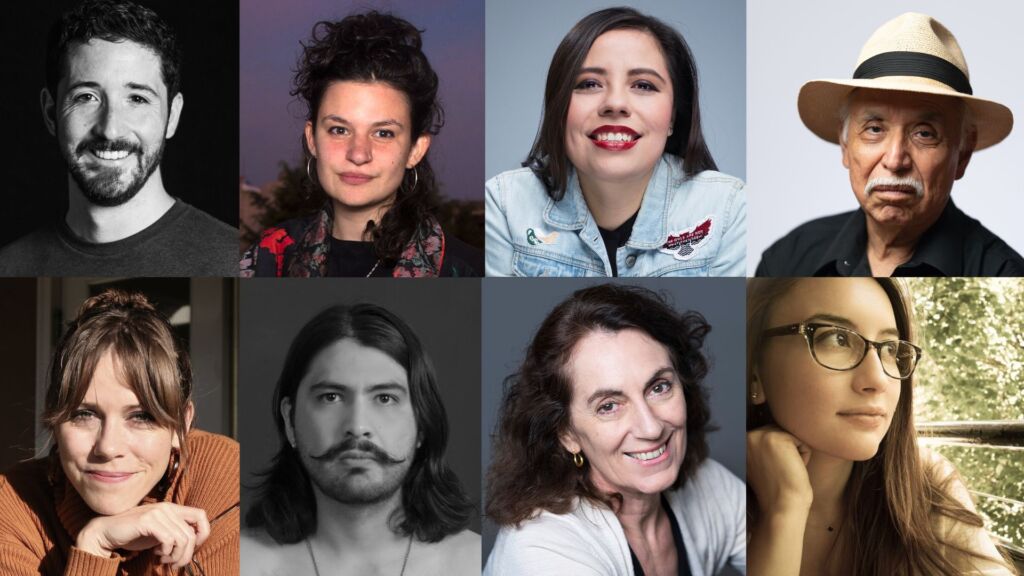 Under the Volcano is delighted to announce the winners of our 2023 full fellowships. Awarded to writers of exceptional talent, these fellowships cover tuition for the three-week program, accommodation in the village of Tepoztlán, roundtrip transportation to Mexico City and a small stipend. All fellows participate in master classes led by master writers in their genre.
Our most cordial welcome and congratulations to all of them!
Oscar Lopez
Truthteller Fellowship for an English-language journalist whose work exposes the forces behind social, political or cultural injustice
Lopez is a Mexican-Australian journalist working in the New York Times's Mexico City Bureau. He is currently developing a book project examining the current crisis of forced disappearance in Mexico and its links to the country's Dirty War of the 1960s and 70s. In 2020, he was named Journalist of the Year by the NLGJA, the U.S. association of LGBT+ journalists.
Madeleine Wattenbarger
Words of Witness Fellowship for a US-based writer of literary non-fiction whose work addresses issues of social justice, racism or the fate of the earth in an innovative way
Originally from Philadelphia, Wattenbarger is a writer and journalist based in Mexico City, where she covers politics, human rights and culture for international media outlets. She is currently working on a book about forced disappearance in Mexico.
Molly O'Toole
Truthteller Fellowship for an English-language journalist whose work exposes the forces behind social, political or cultural injustice
O'Toole is a Pulitzer Prize-winning reporter, currently working on The Route, a nonfiction book on global migration through the Americas, to be published by Penguin Random House. She is a graduate of Cornell and NYU.
Liliana López León
La Página Dorada Fellowship for a Mexican woman writer under 40 with a book in progress
Born in Mexicali, Baja California, she has taught widely and has published academic essays, but is currently more focused on writing fiction and poetry. She holds a doctorate in Media, Communication and Culture from the Universitat Autònoma de Barcelona.
Francisco Andrade
Voz Viva Fellowship for a fiction writer in Spanish
Andrade lives and teaches in Celaya, Mexico, and is drawn to various forms of resistance, from poetry to rock and roll, the counterculture and, above all, the stories we tell ourselves in order to live. Winner of the 2022 Premio de Literatura León for his story "Después de esta noche nada será igual", he has stories in the anthologies Cuentos para romper espejos (Ediciones Periféricas, 2019) and Gracias por escuchar (Resonancia Magazine, 2019). He also writes newspaper columns, reviews and news articles.
Christine Evans
Grace Paley Fellowship for a woman writer of any age whose work Grace Paley would have encouraged
Originally from Australia, Evans writes plays, novels and opera libretti. The title characters of River & Maude, the novel she will bring to Under the Volcano, live under a broken bridge in a drowned world, sheltered from the Before. A multiple MacDowell and VCCA fellow, she lives in Washington, DC, where she is Professor of Performing Arts at of Georgetown University.
Jesús Mena
Sandra Cisneros Fellowship for an English-language Latinx creative writer of outstanding literary promise and leadership ability
The son of undocumented Mexican immigrants who grew up as a migrant farm worker, Mena is a published author whose novel-in-progress Blood at the Root captures the turmoil unleashed by the arrival of the first railroad to the Rio Grande Valley in 1904 and the bloody 1915 Plan de San Diego Rebellion. He is a former director of communications for UC-Berkeley and Harvard University Kennedy School of Government. 
Amanda Kallis
Imagination Unbound Fellowship for a fiction writer whose work opens new worlds
Originally from Los Angeles, she is working on a novel, Skinframe, the story of two sisters from a family of inventors, that asks how far people are willing to go to avoid grief. She holds an MFA from the Iowa Writers' Workshop and was an artist-in-residence at the Edward Albee Foundation.