Program Dates: January 12-28, 2024
September 1st update: We are currently still reading applications for January. The deadline for our full named fellowships has passed but regular spaces will be filled on a rolling basis.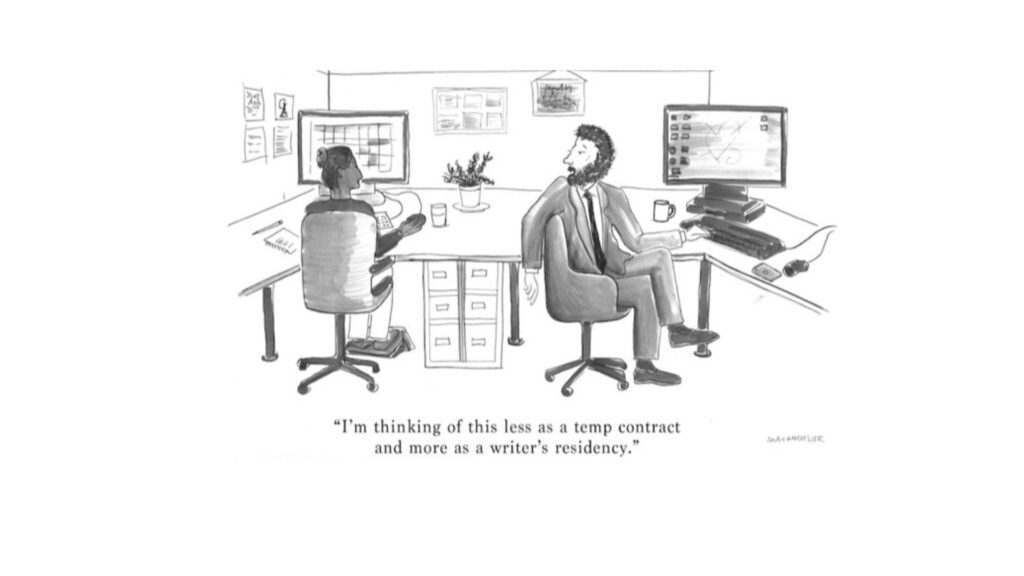 Original cartoon by Anna Maconochie
We open for applications every year on July 1. Regular acceptance to all master classes will be made on a rolling basis until all slots are filled..Please read the requirements below before submitting your application. 
Acceptance to UTV master classes is based on literary promise and/or accomplishment as demonstrated in your writing sample and the information on your application form, as well as the intent conveyed in your cover letter. We read every word you send us and do our best to ensure a good match between prospective participants and the program as a whole.
Feel free to combine your cover letter and writing sample into a single clearly labeled Word doc or PDF with your name first, followed by the genre in which you are applying. Our application form normally saves automatically as you go, but we recommend copying all your responses to an outside document in case of glitches. You'll be asked to select ONE master class and to fill in a couple of brief background narratives about your prior writing experience and your expectations for Under the Volcano. Some applicants prepare these sections in advance and paste them in.
Writing Sample Requirements
Applicants in fiction and writing of witness (a.k.a. literary non-fiction): submit 10 pages double-spaced in your genre. Be sure to let us know what we are reading, i.e., if whole or part of a short story or a portion of a novel. The more you tell us the better.
Poets: submit 10 pages of poetry, single-spaced.  Don't cram multiple poems onto a single page.
Journalists: submit links to at least two published pieces under your byline totaling between no more than 2000 words or the equivalent as a PDF with dates and place of publication.
Manuscript Coaching (fiction, memoir or poetry): submit 25 pages from the manuscript you intend to workshop, in addition to your cover letter. Prose applicants must include a synopsis of their project as a whole. You must be well into a book-length project to qualify.
N.B. Los candidatos de lengua hispana deben de enviar su muestra de escritura y su carta de presentación en español. Los candidatos al taller de periodismo deben de mandar un comprobante de al menos nivel C1 en inglés. 
For information on our full fellowships please visit the fellowships page. 
Under the Volcano offers limited financial aid based on proof of your past three months of monthly income and expenses. Such proof (recent tax forms, pay stubs or bank statements and receipts for housing, as well as evidence of continuing obligations such as loans) should be uploaded with your application. Due to volume we are unable to consider supporting documents submitted as email attachments or after the fact.
This year we have a special fund for partial financial aid to qualified poets (talent + need)! We also have a Black Writers Matter Fund that awards financial aid on a sliding scale to qualified applicants (also talent + need.)
Please note that Under the Volcano is not able to provide complete financial aid except to full fellowship recipients. If finances will be an issue, we encourage you to seek outside funding from other sources. Upon request we will provide successful applicants with a formal letter to help them seek additional support beyond what we can provide.
Para detalles sobre nuestras becas completas dale clic aquí.
have more questions ?
Feel free to reach out to us